Spruce up your tiny patio or deck with these functional tweaks that will make your outdoor space feel bigger.
Less is More
Keep your small space clean, uncluttered and inviting. Choose high-quality and statement furniture and let it stand out.
Avoid cluttering a small deck or patio with multiple furniture and colours. Neutral colors can be the perfect base for
any outdoor living spaces. Keep the look minimal with a pair of statement chairs and a table.The easiest way to add
some glam to your porch is with string lights. Let them drape from the ceiling or attach them to the balcony railing.
Get the Look: 3 Piece Outdoor Bistro Set from BFG Furniture, $299.00
Find The Perfect Fit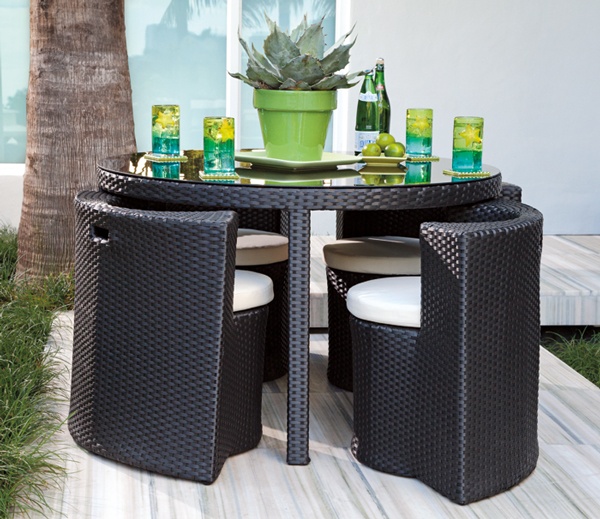 The dining set might be attractive, but if it's too large it can overwhelm your space. For narrow outdoor patio, opt for
open rectangular end tables paired with armless chair. Stackable stools are a great choice for last minute guests and
you can store them in the same space as one.
Round and square tables tend to work in areas that are more symmetrical. BFG Furniture Hawaiian Outdoor Set, $799.00
is an ideal design for those with limited space, the four chairs tuck neatly under the table when not in use, making this dining
set into a very flexible and versatile option.
Think Vertically
Draw the eye up by creating an eye catching vertical garden. Aside from looking super neat, free up some space
with several vertical baskets. Add a hanging swing chair, hammock or modular storage solutions, such as stackable boxes.
Make your own hanging Herb Garden here.
Pick Space Saving Furniture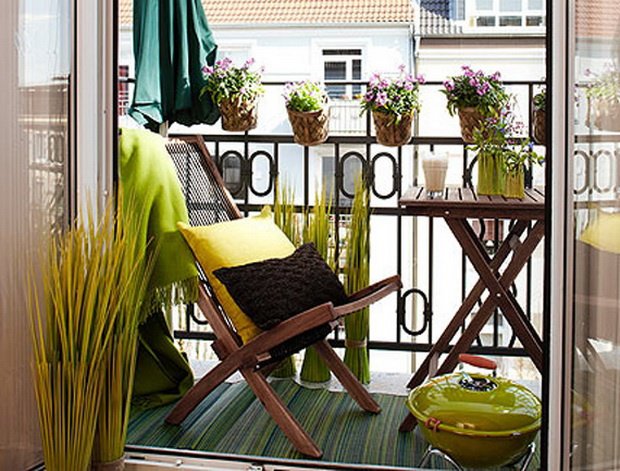 Practical and classic, foldable furniture is perfect for patios and balconies of any size. It can be designed to fold
away neatly and quickly, making this ideal for anyone with limited space. Other than that, you can find stackable
furniture which can be stacked into a tall vase shape.
BFG Furniture Two Stackable Furniture, $299.00 is designed for an ultra stylish look and pure practicality. It will
not only increase space for traffic flow but will make your space feel larger, too.
Expand Space with a Mirror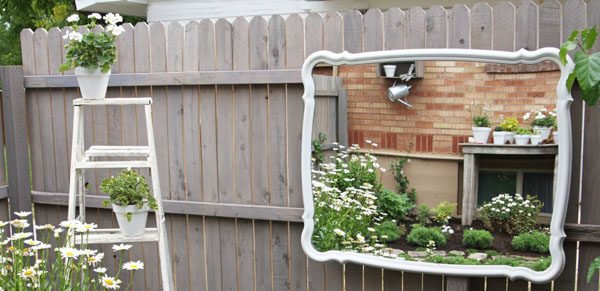 Prevent a small outdoor patio from feeling too pint-sized by installing mirrors on one wall.
Adding a mirror reflects light and creates the illusion of space. Ensure the garden mirror is weatherproof
by adding a sealant to the frame.
With a little bit of creativity, your home will always feel bigger than it is!